Night swimming is going to wait a few more months at four pools located in the Lake County portion of The Villages.
Night swimming at the pools was abruptly ended following an April 8 inspection. A department of health inspector determined that after nearly two decades, the pools don't have the proper lighting to allow for night-time swimming, a tradition long enjoyed at those pools. The pools had been open until 11 p.m. The pools are at Chula Vista, Southside, Hilltop and Paradise.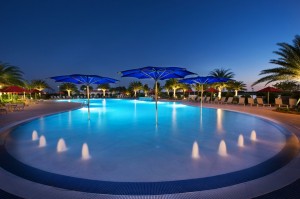 The issue of night swimming was raised at Wednesday morning's Amenity Authority Committee meeting. Initially, it had been suggested that lights would be installed and night swimming would begin again in October.
District Property Manager Sam Wartinbee said retrofitting the pools with lighting has not been easy.
No one responded to the initial request for bids, except one contractor who submitted the bid 20 minutes late.
The District then invited in four companies to bid on the work. Those bids are expected back in two weeks.
District Manager Janet Tutt admitted that part of the delay was an extra period of research aimed at attempting to save the district in excess of $100,000.
"Unfortunately, it didn't work out," Tutt said.