Evans Prairie Country Club edged Lopez Legacy Country Club by three points on Thursday to win the 2014 Men's Village Cup golf tournament.
The popular tournament features some of the best amateur golfers in The Villages. Teams are selected through a draft.
The final result was 12 ½ points for Evans Prairie to 9 ½ points for Lopez Legacy. One point is award to the winner of each individual match and a half point is awarded to each player in a tie.
The Evans Prairie victory on the anniversary of the Sept. 11 terrorist attacks had special meaning for team member Paul Whelan, originally from Boston. His longtime golf partner, John Grazioso, was killed in the Twin Towers attacks in New York City.
"Everybody's still shaking," Whelan said when Thursday's final results came in. "It was a very close match."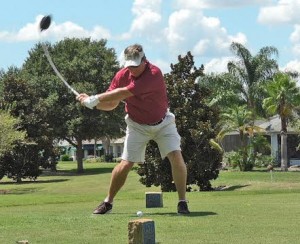 Rain, which scuttled the semifinal round last week and shortened it on Tuesday, made a brief appearance on Thursday and dampened a few golfers but did not interrupt play.
Lopez Legacy began the day with a two-point deficit after Evans Prairie took a 5-3 lead on the first day of the two-day final. The teams were tied on Wednesday until Jon Piskos of Evans Prairie sank a 15-foot putt to put his team ahead.
The victory went to the newest Villages country club making its first appearance in the tournament with a captain who moved to the community about a month ago.
Winning captain Russ Jimeson dedicated his team's victory to Mike Rhoades, a team member forced to withdraw from the tournament when his brother died. Danny Goforth replaced Rhoades.
"We had a great team, good team support and got the job done," Jimeson said after receiving the championship trophy and medals.
Evans Prairie golf pro Brian Linton, who will display the trophy at the country club until next year, said the victory was exciting.
"I'm very proud of them," he said. "They fought hard. They had some tough matches during the day."
Lopez Legacy captain George Bell said he also was proud of his team.
"The other team played better overall," he said.
Evans Prairie golfers winning their individual matches Thursday were Jimeson, Greg Fort, Brian Ellis, Erich Truax, Ron Wilder, Larry Strasdlin, Whelan, and Steve Palvedes. Lopez Legacy golfers who won their matches were Bell, Paul Hoerrner, Bob Abbott, Lamont Brubaker, James Malfe and Richard Ehrenfelt. George Abela of Lopez Legacy and Edward Spang of Evans Prairie were tied.