Layout of Village Homes
The Villages is organized by Villages that have one or more sections of the Patio Villas, Courtyard Villas, Ranch – Cottage, Designer and in Premier homes. These homes are NOT integrated by types. Within a Villages or group of Villages there are Recreation Centers with Family pools (for residents and guests), tennis courts, shuffleboard, bocce, horseshoes, and in some cases pickle- ball courts. The recreation centers have billiards, card and craft rooms and a meeting room with a kitchen. Click Here to see a map of the recreation centers and pools.  If you want a great app on your iphone that gives you turn by turn directions by golf cart and your car in The Villages and has all the rec centers in it as well at you finger tips, Click Here.  Most neighborhoods also have one or more resident pools. There are currently 11 Regional Recreation Centers located throughout The Villages, with 6 having fitness centers (which are not included in the amenities). These centers have Olympic pools which offer lap swimming, water volleyball, water aerobics and other water related activities. They are much larger and have many meeting rooms for larger groups. There are 28 pools in both neighborhood and regional centers have aquatic lifts for the handicap.
Home Sites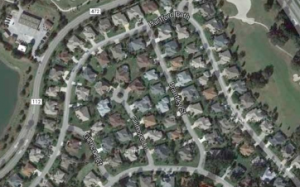 There are several types of single-family home sites. Interior lots which homes backup to each other, Cul de sac* homes with larger pie shaped lots, Corner lots with space on the side of the home (but usually still backup to another home in the rear), Golf View* and Golf Frontage* lots, Conservation* area views, Wooded* views, and Water Views*. Obviously the PRIVACY lots are more expensive, thus increasing the price of homes. The majority of homes are situated on interior lots. Homes have varying setbacks based on the location and district the home is located in, but the average of 7 to 10 feet from rear property line for any vertical structure, such as a birdcage, and 15 feet from any road. You must check the specific deed restrictions for each UNIT. UNIT – The Villages is organized into 13 residential districts with many Villages in a district. The district is broken down into units (a section of homes in a neighborhood). So each home will have a unit number which is the basis for the calculation of the BOND and CDD Maintenance Fees (discussed later).
Home Facing
Also, another consideration is which way your home faces and the direction of the sun on the front or rear of the home. Also time of year should also be taken into account. Below is the direction for Sunrise and Sunset by month.